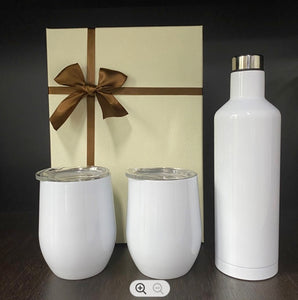 3pc Gift Box Sublimation Tumbler Set
This Gift Box Tumbler Set are a Great Pre-Packaged Gift for every occasion! These tumblers feature a stainless steel inner tank too keep your beverages cool and warm for hours. They're encased in a polymer outer wrap for rich, full color transfers and a durable, premium feel.
This Gift Sets are perfect for birthdays, bachelor/bachelorette gifts, and much more.
 Specifications:
Sublimation wine tumbler blanks
Capacity: (2) 12oz ; (1) 17oz
Printable polymer outer wrap
Stainless steel inner tank
Can contain cold or hot beverages
Food grade material, BPA free
For use with a silicon wrap or heat shrink bag


Note: Be sure to remove lid before sublimating! 
Heat Press Instructions:
3D Vacuum Heat Press 
Press Temperature:

325°F

Time:

150 - 165 Seconds

 

Attach sublimation transfer paper with image printed in reverse to the tumbler with thermal tape
Place tumbler in press at the press temperature, and close the element around the tumbler
Press for the specified time above needed
If the image begins to look blurry, or burnt brown by over-pressing, decrease pressing time by 15 - 30 seconds
Once done, remove the tumbler from the press and remove the transfer paper immediately
Allow the tumbler to cool completely before use


Oven Settings

(test in your oven for accurate time)

Attach reversed printed image to tumbler with thermal tape
Put the tumbler in the silicone wrap or heat shrink bag
Place in oven preheated to 395°F for approximately 6 - 7 minutes (test to determine best timing!)
Afterwards, remove heat shrink bag / wrap and transfer immediately
Allow the tumbler to cool completely before use