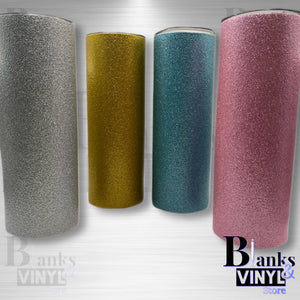 Sublimation Glitter Tumbler
These are gorgeous 20oz Glitter Sublimation Tumblers. These blank tumblers are textured with a glitter coating that provides a very unique look. The tumblers are made of a durable, lightweight stainless steel that will keep your drinks hot (or cold!) for hours on end.
These personalized tumblers are perfect for corporate gifts, bachelor/bachelorette parties, promotional products, and much more.
Specifications:
Stainless steel sublimation skinny tumblers
Capacity: 20oz
4 different colors to choose from
Textured Glitter coating provides a nice shiny finish
Includes clear lid and choose of plastic or metal straw
Dimensions: 8.25"H x 2.5"W (without lid/straw)
For use with a Mug Press, or 7" x 11"/ 13" x 8" Heat Shrink Bag in a convection oven.


Note:

Be sure to remove lid before sublimating!





4-in-1 Mug Press (10oz, water bottle element)

Press Temperature:

325°F


Time:

150 - 165 Seconds


Pressure:

Light





Attach sublimation transfer paper with image printed in reverse to the tumbler with thermal tape
Place tumbler in press at the press temperature, and close the element around the tumbler
Press for the specified time above needed using specified pressure
If the image begins to look blurry, or burnt brown by over-pressing, decrease pressing time by 15 - 30 seconds
Once done, remove the tumbler from the press and remove the transfer paper immediately
Allow the tumbler to cool completely before use





Oven Settings

Temperature:

395°F


Time:

6 - 7 Minutes


(test in your oven for accurate time)





Attach reversed printed image to tumbler with thermal tape
Place tumbler in heat shrink bag or silicone wrap
Place in oven preheated to 400°F for approximately 6 - 7 minutes (test to determine best timing!)
Afterwards, remove heat shrink bag / silicone wrap and paper immediately
Allow the tumbler to cool completely before use