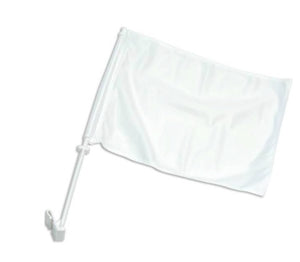 Sublimation Car Flag and Pole
These car flags are great for team events, company functions, etc.
They're Bright white Double Ply-Sided 100% Polyester.
Plastic stick w/ molded clip included.
Open on one end (opposite stick) for better movement
Size:12"x15"

Please be sure to put a disclaimer on your product that states the flags and poles will not withstand high speeds. 

Flags are Sold INDIVIDUALLY not in pairs.


Pressing Instructions for Sublimation Car Flags
Temperature: 400F
Time: 30-45 seconds
Pressure: Medium
Print image in reverse

Lint roll Flag; Pre-Press for 20 seconds at 400 degree's

Insert Teflon sheet to block ink penetration between plys. 

Place in heat press with 

transfer on top. 
Press according to above time/temperature/pressure
After pressing, remove paper immediately.
* Do Not press nylon seem - it may melt
**For best results, use a teflon sheet or teflon pillow between the two layers to avoid image migration