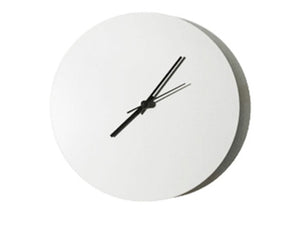 Aluminum Sublimation Wall Clock
Large Wall Clock, Round, Gloss White Sublimation Hardboard, 11.4" diameter. Comes equipped with workings and hands (white or black reversible), requires AA battery, not included.


Features:
Size: 11.4" Round
Aluminum
One-sided
.045" thickness

Pressing Instructions:
Time:  60 Seconds
Temperature: 400° F
Pressure: Medium

1. Print image in reverse
2. Check for protective film before pressing
3. Place in heat press with transfer on top
4. Press according to above time/temperature/pressure
5. After pressing, remove paper immediately.